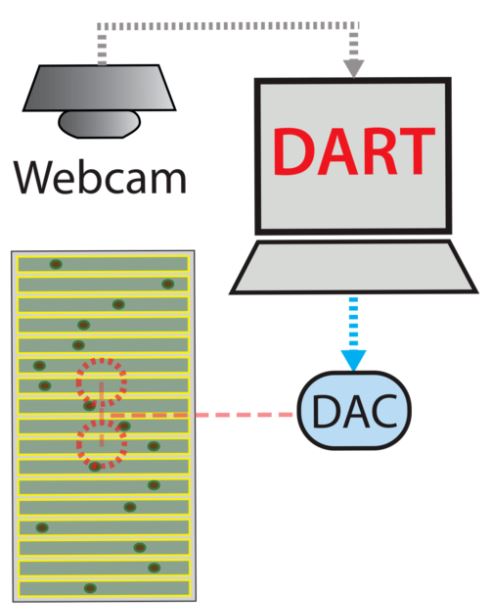 A DART compatible experimentation platform is monitored via a camera that allows the computer to detect the positions of the flies. Strong vibration motors under the platform are controlled by DART via a Digital to Analogue interface (DAC).
As trivial as it may look like, setting up an accurate and efficient system for tracking up to 200 flies can be tricky. Also not every lab has access to workshop who can help building specific and well-adapted equipment.
WE PROVIDE EXPERTISE AND ADVICE TO SETUP YOUR DART SYSTEM.

WE OFFER DIFFERENT TYPES OF PLATFORM FROM 1D (TUBE) TO 2D (ARENA) ENVIRONMENT

WE OFFER FULL PACKAGE INCLUDING CAMERA AND LIGHTS
DART compatible 1D platform (tube holder)
Each 1D platform comes with 4 motors attached underneath and can hold up to 20 tubes. The platforms are made of white polyamide PA 12 (nylon) allowing an easy tracking. Comes with its controller.
2D platform (arena / open field) with 9 motors and 36 open-field arenas is currently under development. Each arena is 3.5mm in diameter and 1.5mm height, all covered with a transparent acrylic sheet with four 1mm holes for breathing. They are made of Acetal copolymer (POM-C), Tecaform AH. Comes with its controller.
Enclosure with 1D or 2D platform. This package includes two 1D platforms or one 2D platform with the motor controller. The full enclosure also comes with a light controller allowing you to set you light cycle precisely, a infra-red camera, and lightning system.
In developement:
Full Enclosure with optogenetic for blue and red wavelengths
Y-Maze with LED control
Automatic Olfactory Maze